Lufthansa has always set the bar high when it comes to premium air travel services. With its First Class terminal in Frankfurt and seat/bed concept (both industry firsts), the German carrier continues to set the standards aloft.
If you want to discover a new way to fly, here are some reasons why you should look to Lufthansa to find your sanctuary in the crazy world of commercial air transportation:
Pre-boarding advantages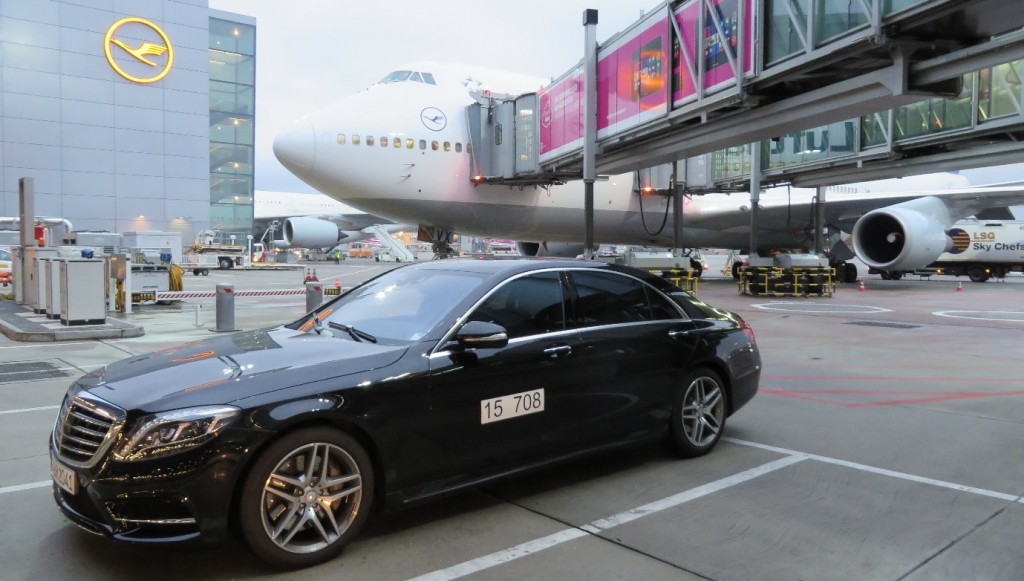 Your First Class experience with Lufthansa starts before you even board the aircraft, which won't feel much like you're at an airport at all. At the First Class lounges in Frankfurt, Munich and New York-JFK you can dine in a restaurant, have a snooze in one of the sleeping rooms, treat yourself to a cigar in the (aptly named) Cigar Lounge or just unwind in one of the many types of comfortable seating options.
If you want to get ahead on some work, you can do so in a mini office. A dedicated assistant appointed specifically to you can help you post letters or packages as well as print or copy documents. When your flight is ready, this same assistant will escort you to your chauffeur who will take care of any cabin luggage you may have. You will think you're boarding a private jet rather than a scheduled flight as you are offered a private check-in and security screening then driven directly to the plane. Now that's First Class service!
Fly on the latest B747-800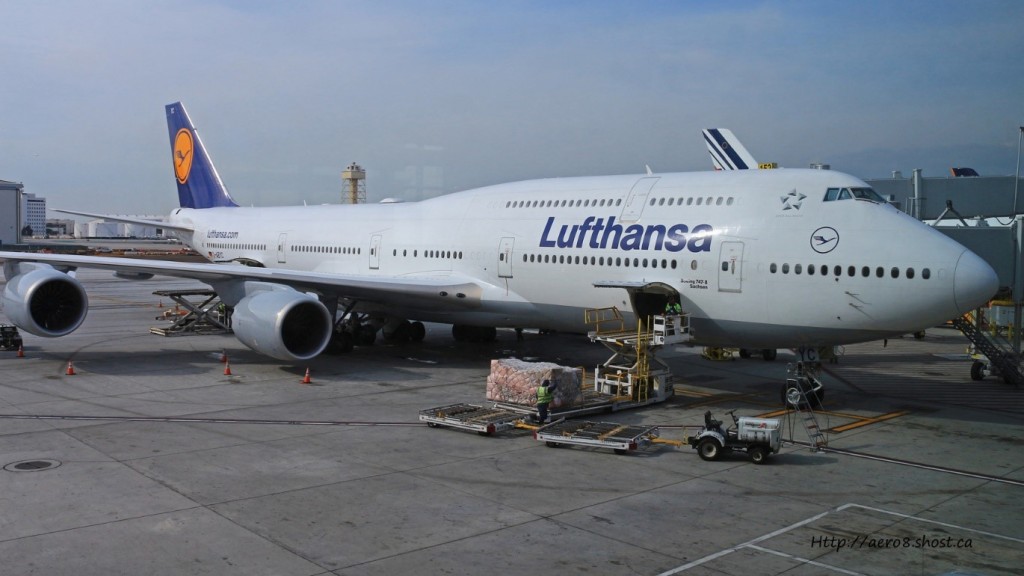 Lufthansa is one of a few airliners that have purchased the latest version of the 'Queen of the Skies' 747 variant – the Boeing 747-800 also known as the B747-8I (the 'I' is for Intercontinental) – a real treat particularly if you're an aviation buff. Obvious features that set it apart from other 747s are the raked wingtips versus the winglets (as found on 747-400s) and the larger upper deck. Inside the First Class cabin there are no overhead bins, each seat has a locker located near the galley instead giving it an extremely spacious feel.
There are only eight seats found in the First Class cabin on this aircraft type, set right in the nose of the plane. Storage space is in abundance including a footlocker, a place for water bottles, personal items and plenty of table space and storage. The windows are designed like those on private jets; large and wide and automatically controlled. Getting to fly on perhaps the last generation of the 747 is reason enough to fly with Lufthansa.
Get a seat AND a bed!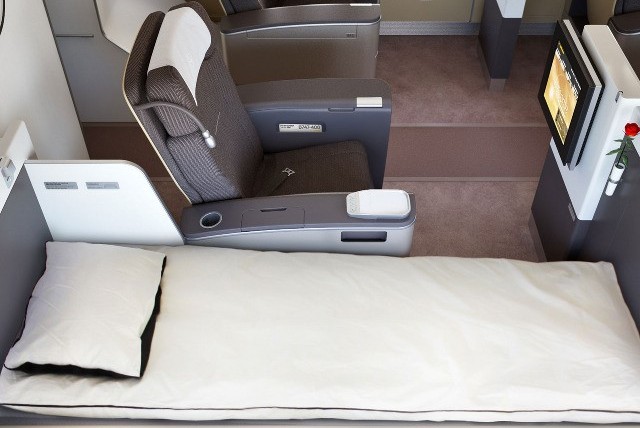 Lufthansa pushed the boundaries in First Class comfort when it introduced the seat and bed concept on board its B747-400. On most airlines, your seat is also your bed, but Lufthansa goes one further by providing a bed alongside a seat in First Class.
On the upper deck of the B747-400, where you would usually find window seats, you will find a full-length bed instead measuring over two metres long and decked out in a quality mattress. On the aisle side is the seat which contains all the creature comforts and technology of any First Class seat found on Lufthansa's fleet. For added privacy as well as peace and quiet, sound-absorbing curtains and sound-deadening insulation underneath the carpet have been installed. Think what the possibilities of having a separate seat and bed would present – would you sleep first or sit first?
Food glorious food!

Lufthansa's dining experience has long been revered as one of the best in the skies. With a full caviar service, starter, salad, soup and choices of main courses, even the most discerning palette will find something to enjoy. You can also find traditional German fare onboard such as Spargel, a white asparagus dish served with ham, new potatoes and Hollandaise sauce.
A range of red and white wines with a monthly featured special will also ensure your Lufthansa First Class dining experience is one you will remember.
Speak with your SkyClub expert today to book your Lufthansa First Class experience. With many routes via Europe and Australasia, why not be chauffeured to your plane, have a seat and a bed, and enjoy a full caviar service on your next business trip?