American Airlines has teamed up with not one but four American brands to create new amenity kits for its First and Business passengers. The airline worked with Cole Haan, 3LAB Skincare, C.O. Bigelow Apothecaries and Clark's Botanicals, alongside in-flight experience specialists Buzz, to deliver new amenity kits, which will be available in-flight from March 2016.
Each amenity kit is enclosed in a custom bag designed by Cole Haan, inspired by their pinnacle design and innovation collection, ZerøGrand. Inside each kit, passengers receive a discount code guaranteeing 20% off the skincare brand and  $75 towards a future Cole Haan purchase.
As standard, each kit across all cabin classes includes a toothbrush, toothpaste, eyeshade, socks, and earplugs.
The bag available in International First Class features perforated detail and is available in six different colours, containing a variety of 3LAB Skincare products, including M Cream, Perfect Hand Cream, and Perfect Lips (Balm), along with tissues, hand sanitizer, mouthwash, pen and foam headphone covers.
Meanwhile passengers flying in International Business Class receive a versatile Dopp Kit design available in eight different colour combinations. Inside the bag they can find C.O. Bigelow Apothecaries products (lip balm, Lime & Coriander body lotion and mouthwash), tissues, pen and foam headphone covers.
On domestic flights, passengers flying in the Transcon First Class cabin will find a bag that resembles an envelope with stamped exterior, available in six different colours. Goodies inside include Clark's Botanicals skincare products such as Smoothing Marine Cream and Ultra Rich Lip Balm, as well as an exclusive Moisturizing Hand Cream and Refreshing Hand Wipe made specifically for American Airlines.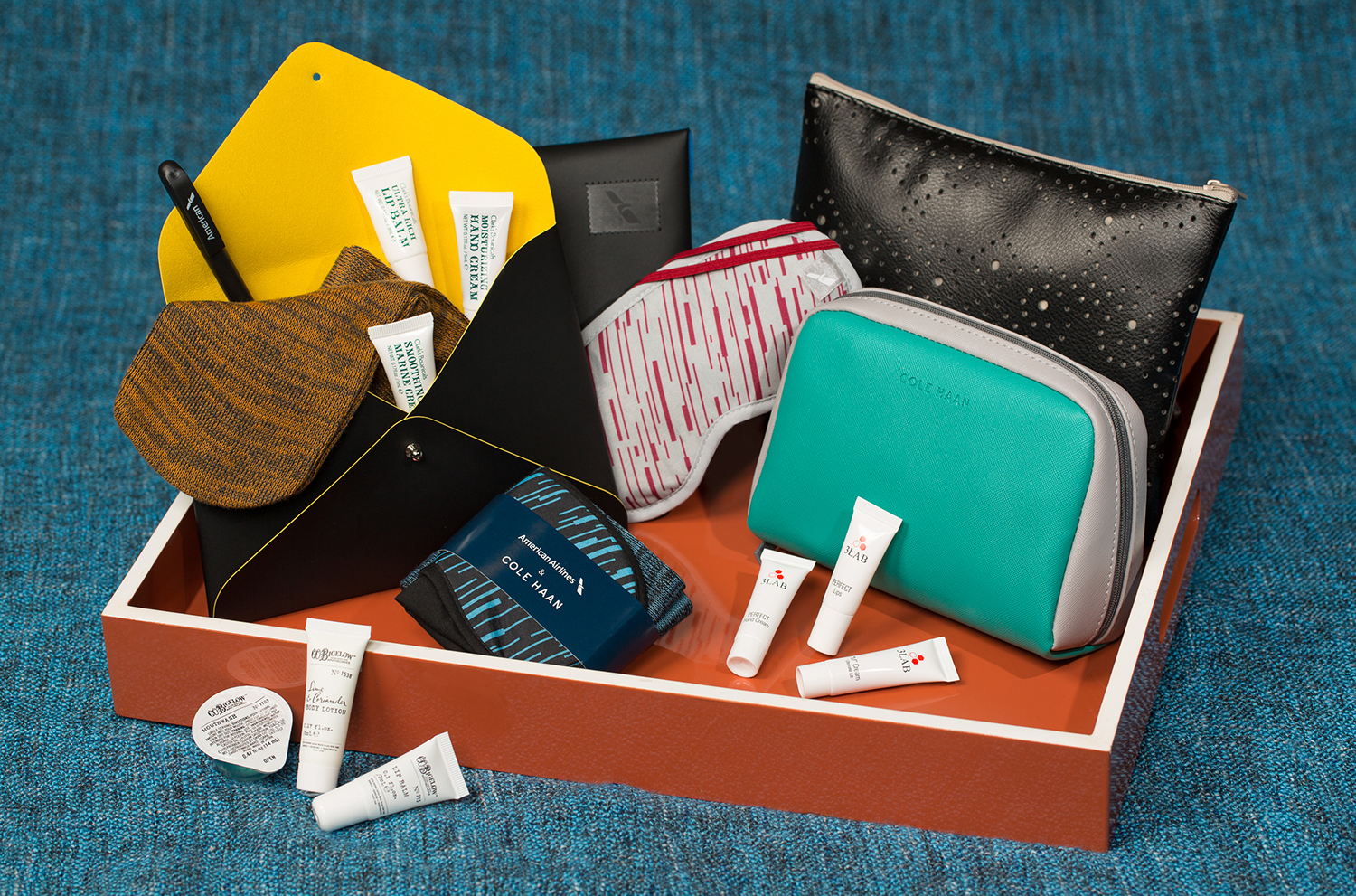 The carrier says it will hand out the amenity kits in four rotations in various colours until March 2017. The first rotation of colors will last four and a half months, starting with the grey, blue and red kits.  
Fernand Fernandez, American's vice president – Global Marketing, said: "We're investing billions of dollars to customize and elevate the travel experience for all of our customers, and we know our premium flyers are looking for a refined and modern experience when it comes to airline service, right down to the amenity kits for long flights."
"We want to set ourselves apart from the competition, so this year we teamed up with four amazing American brands to offer a variety of amenity kits for each premium cabin in a bag they'll want to reuse."
This is the first time American Airlines has partnered with a fashion and lifestyle brand to design and create an amenity kit, with different skincare products available in different cabins and classes of service.
It's not just the amenity kits that American is updating; the airline is improving the overall customer experience with more than $2 billion in planned improvements.
The airline is investing in fully lie-flat seats, international Wi-Fi, more in-flight entertainment options and power outlets, and an upgraded selection of complimentary food and cocktails. In addition, Admirals Club lounges worldwide are being upgraded with a new, more modern design.